**Sorry for not posting this in the summer, we didn't want to jinx our house search. The Baconator even quit Facebook for most of the summer!**
After the swearing died down and our heartbeats regulated, we met up with our realtor again and started seeing places. On our first time out for the second time, we decided to check out more unusual listings but this time they were at the bottom of our budget like a couple of duplexes in Noble Square, a small loft and a house that had been gutted and redone - the idea is that maybe we could get a steal!
None of these "Bottom Budget Abodes" really struck a cord with us, they were all small or awkwardly shaped or dingy or in a weird neighborhood or some combination if those issues. While the Baconator was smitten with the house, I just couldn't do it. Sure, it was gorgeous, but the neighborhood was dodgy despite all the hipsters that had moved in. It was bigger than anything we had looked at, every single part of it was brand spanking new, the yard was totally swoon worthy, but it was right across the street from a Streets and Sanitation complex and when I looked up the crime reports, the symbols on the surrounding streets were XXX, syringes and guns. No thank you. So after that showing, we cooled off for a couple weeks, and at the beginning of June, we were back on the prowl.
We had a promising selection of places: a brand new gut rehab duplex in Humboldt Park, a walk up in Ukranian Village, a penthouse loft in West Bucktown, another gutted house in Logan Square, a loft in Ravenswood, and a pair of rehabs in Andersonville and Uptown. Notice anything unusual about this selection? Maybe the fact that we have given up on a single neighborhood and have opened up our search to the entire Northside of Chicago?
So "off we went like a band of turtles" as our realtor liked to say. First up was the duplex in Humboldt Park. To call it nice is an understatement; this baby was in a building that a developer flipped over the winter and the whole inside was shiny and new. We were actually able to see every unit in the 3-flat, but it was the main floor duplex down that caught our eye. It was priced at the top of our budget vs the other units in the building... But it had 3 bedrooms and a separate family room aka man cave. This is what dreams are made of.
View of the living room from the kitchen - I swear it's bigger than it looks from this angle!
Love this stainless steel and silestone kitchen - wish we had a photo of the 23rd century microwave, too!
Man Cave? Pretty sure the Baconator is already picking out the perfect shade of red...
Victory! A walk-in closet!!
The drawbacks? Well, it's in a western neighborhood that is still "in transition," so there are still gangs in parts of it and what not, but more jarring is that we'd have to take a bus to a train to get to work. That was definitely on our Don't List. So it was nice but we needed to move on.
The next place was right off Chicago Ave and next door to a large mechanic shop - Scratch that - Overlooked a large mechanic shop. So it was out in under a minute. I didn't even bother to take photos since it was not even a contender.
The penthouse loft in West Bucktown was nice... But not as nice as the first place we saw, so after petting the two cats that were lounging around, we took our leave.
Next was another gutted house in Logan Square. Guys, we could have a totally gutted, brand spanking new, still smells like paint, detached house with a backyard, a basement and a two car garage in the CITY. OMG WHAT?! The only problem was the finishes and color palette, they just felt a bit older than we are. Like a couple in their early forties were moving in, not a couple in their twenties.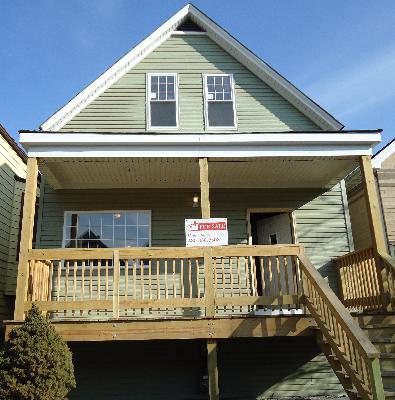 The porch, the roof, it all feels so very Torklesons to me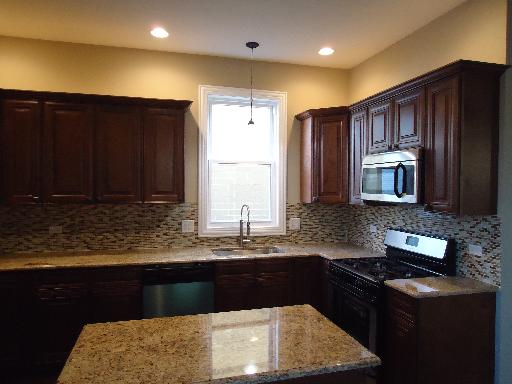 Beautiful kitchen... but just a bit old feeling...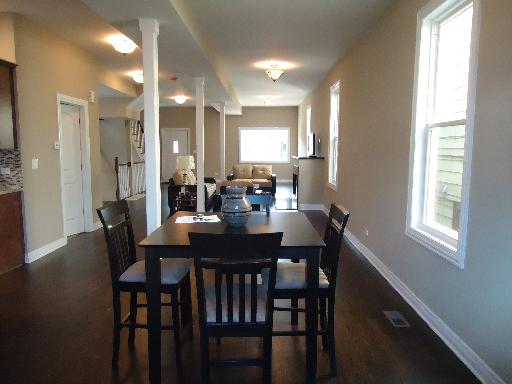 View from the back door looking into the dining room and living room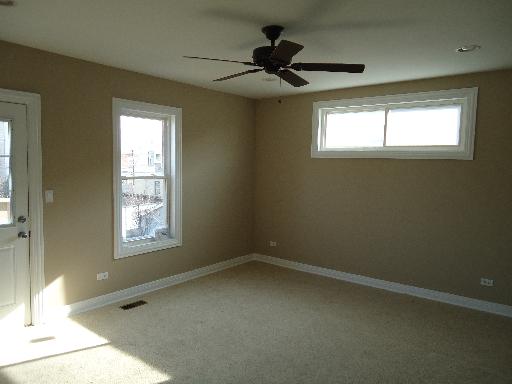 Yep, this master walks out onto its very own patio!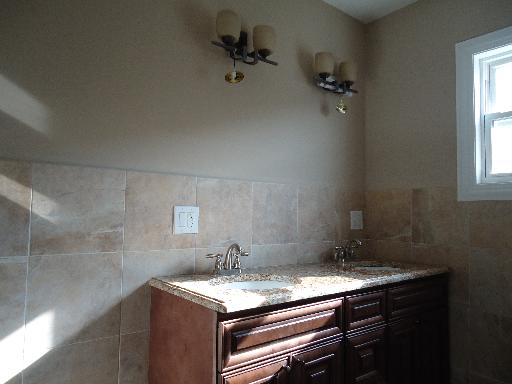 Fabulous master bath in the same palette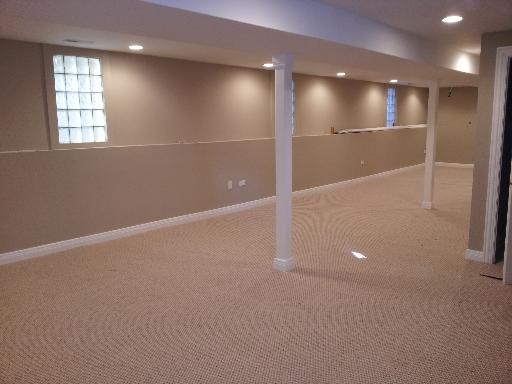 A huge basement Man Cave for the Baconator
So we milled around and gaped at the kitchen a bit... Then the realtor mentioned that their development company had another gutted house that was going in the market the next day. Whoa, buddy! You almost let us leave this place without that juicy tidbit?? We had about 30 minutes to spare between appointments, so we convinced him to show us the unlisted house.
It was only three blocks from the first place and still in Logan Square. The development company bought a foreclosed two flat and revamped it as a single family home with a huge backyard and two car garage, complete with 3 bedrooms, 3.5 baths, a basement and an attic. Finishes were much more modern, the color palette was more out style and, hellooooooo, a house!!!
The front of the house - you can see how it is a converted 2 flat.
View from the living room - You can see the dining room around the corner
The totally gorgeous kitchen... Swoooooooooon
Do I smell another Man Cave option?
The light filled front bedroom
Somewhat awkwardly windowed Master Bedroom
Of course this second house was the top of our budget... actually, about $30-35K above our max budget. And the location was just inconvenient enough that we'd have to buy a car within the first 6 months, but oh man, I was so in love!
We had a lot to think about. The two front runners of West Town were the duplex down in Humboldt Park and the modern house in Logan Square - both total guts that were sparkly and new inside; both had parking and a back yard; both had gorgeous kitchens; both were in slightly dodgy, somewhat not great, "in transition" neighborhoods. After a quick cup of coffee, we headed off to the northside to check out more places in the afternoon.
I was going to write a whole additional post on the northside places, but the reality is that we compare all 3 of them to the places we'd seen in the morning and none of them held a candle to the west side units. We traveled all over the place, talked ourselves out of even visiting the unit in Andersonville and even saw one at the end of the street where we'd lived for three years. The Baconator and I had a lot of thinking to do, but it wasn't "Where are we going next" but instead "How much do you want to offer?" Off to the part we dread the most: Making an offer.